Fassa Bortolo inspire the next generation of renderers with refurb at plastering school
Fassa Bortolo recently completed a new project to inspire the next generation of renderers with a stunning transformation at the Silver Trowel plastering school in Lee-on-the-Solent, Hampshire.
Italian plastering specialist Fassa Bortolo demonstrated the design possibilities that can be achieved with decorative plaster and gave new life to the walls of the reception area, which provided an inspiring space for plasterers to learn their craft.
The Fassa team was hired to deliver a solution that would offer a unique topic of conversation and be linked to the specializations of the school. The Silver Trowel Complex works with local government agencies and colleges to provide beginners and experienced craftsmen with information about external plaster, plaster, dry lining, and tile applications. It extends over two floors and has a number of spacious practice areas.
After testing, the Fassa team specified RS02 from the Sfide D'arte Ricordi Stucco range. Decorative plaster with striking orange tones, the reception desk now features a stunning wall of polished plaster that effortlessly reflects light to open up the space while also providing a practical surface solution.
Dale Telling, Commercial Director at Fassa Bortolo UK, explains: "Decorative plaster is an ancient wall covering from the 21st century.
"As a surface solution that requires some skill and training to apply, the design options are unlimited. Designers and architects are now using plaster of paris as a contemporary alternative to tiles, paints and wallpaper. Our Sfide D'arte collection offers a wide range of colors and surfaces. And has given the reception area character with its authentic, polished design.
"We hope that future plasterers will be inspired by its use and become a fan of this design-oriented plaster."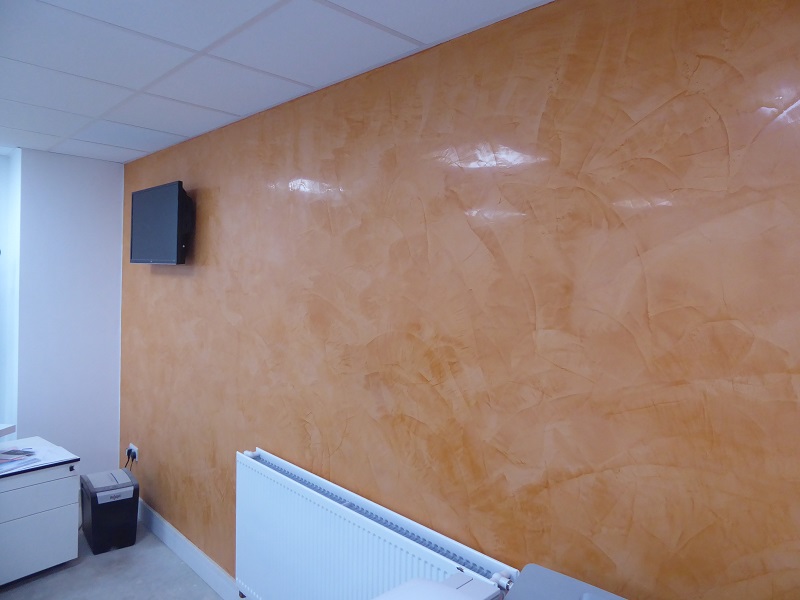 Colin Teagle, Director at Silver Trowel, adds, "We wanted to show the beauty of Venetian plaster in our new renovation with the finished effect and color that perfectly complement our reception.
"Fassa was professional at all times and sent its own specialist to do the work for us. As a training provider, we will try to work with Fassa again in the future."